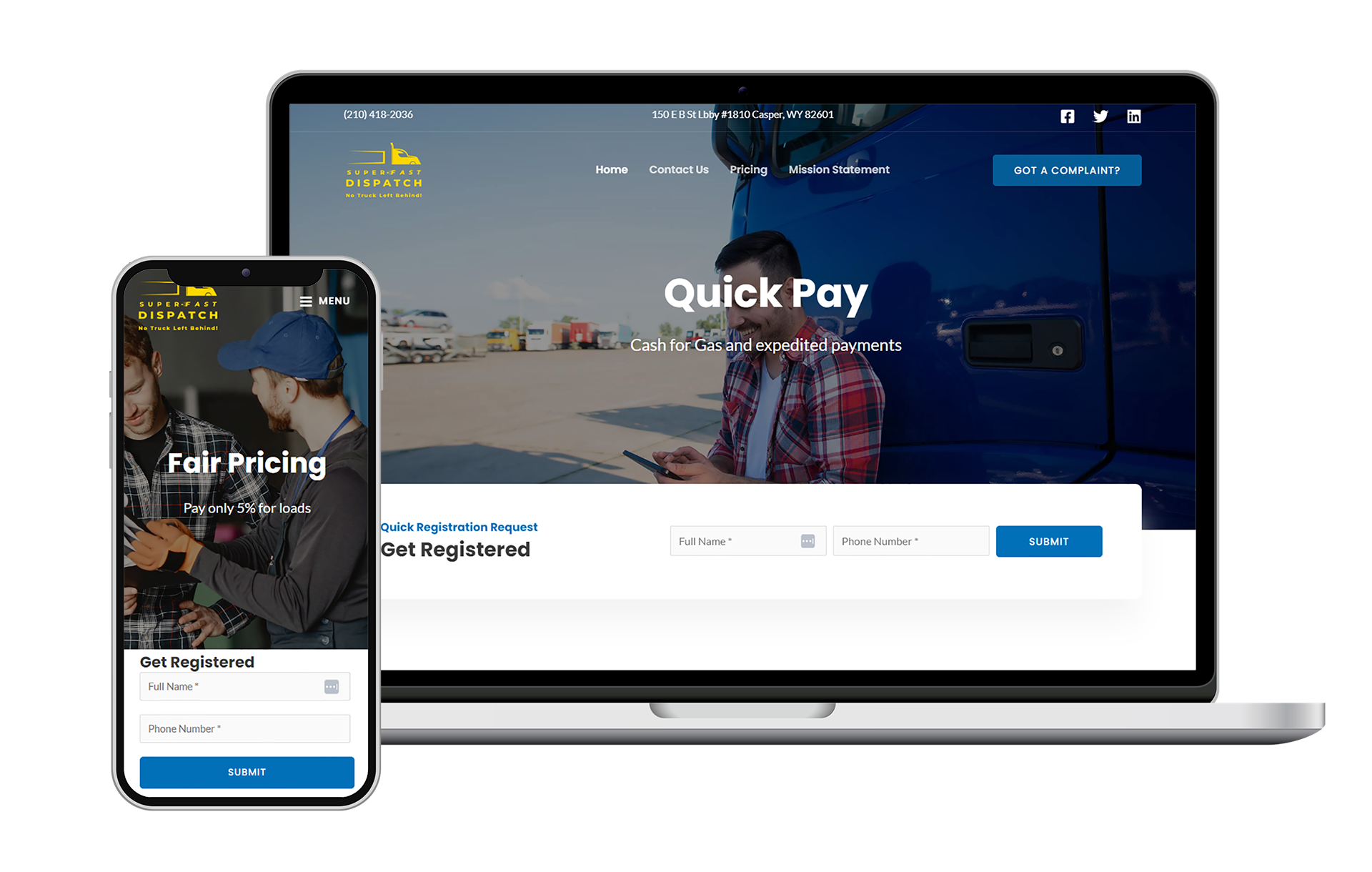 When Super-Fast Dispatch LLC approached AppVerx Technologies, they were seeking a solution to approach truckers across the US. Truckers are always on the move and they don't have fancy laptops available to search for dispatchers, when they're looking. With so many dispatchers scattered all across the US and already in the business for years, it was an exciting opportunity to create something unique for Super-Fast Dispatch LLC.
The platform was aiming to serve users from all over the US in some 40 states. However, designing an engaging landing page posed significant challenges. So, when Super-Fast Dispatch LLC presented Team AppVerx with the chance to address these issues by creating a compelling, intuitive, and secure UI/UX design for their landing page for their website, our team immediately went to work.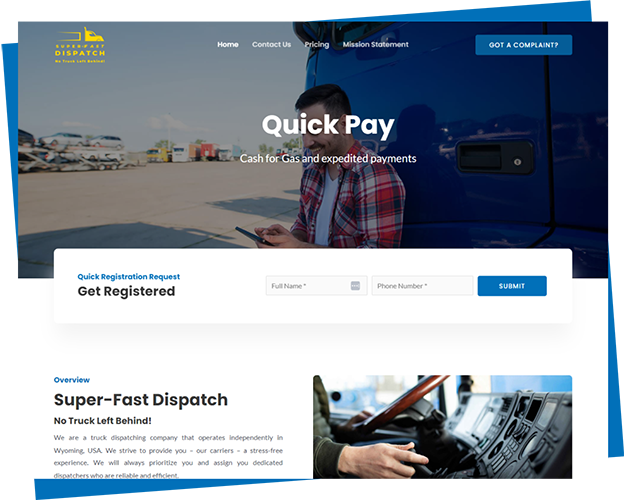 When Super-Fast Dispatch LLC approached AppVerx Technologies to design and develop their new website, they were looking for a partner who could understand their vision and deliver a tailored solution that met the demands of their target audience.
AppVerx Technologies worked closely with the Super-Fast Dispatch team to gain a thorough understanding of their business processes, user expectations, and overall goals for the website. This collaborative approach facilitated the identification of key design elements and technical specifications.
Through iterative cycles of planning, design, development, and testing, AppVerx Technologies was able to quickly respond to changes and incorporate feedback from Super-Fast Dispatch. This approach allowed the team to maintain a constant focus on the end-users' needs and the overall quality of the website.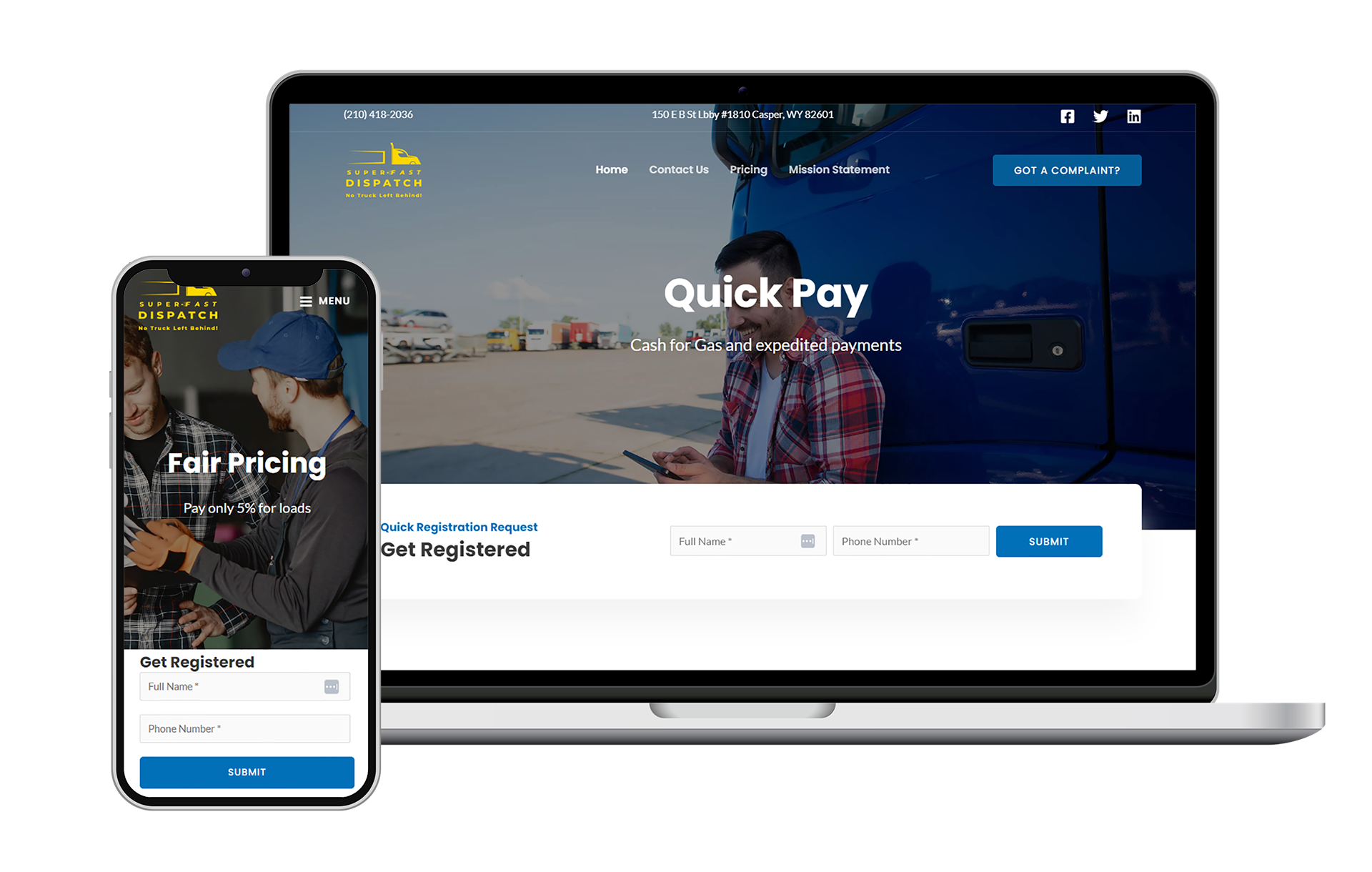 AppVerx Technologies assigned a team of experienced professionals to the project, including an SEO professional, a UI/UX designer, a web developer, a content writer, and a project manager. The team worked closely with Super-Fast Dispatch to understand their needs and goals, and to develop a website that would help them achieve their objectives.
One of the first decisions the team made was to make blue the primary color of the website. Blue is a calming and welcoming color, which is important for a website that is targeting truckers who are often on the go and stressed.
The team also decided to use a slider on the homepage to list Super-Fast Dispatch's top USPs. This allowed truckers to get a snapshot of the company's services without having to click away from the homepage.
Another important decision the team made was to place the contact form right under the hero image on the homepage. This made it easy for truckers to contact Super-Fast Dispatch without having to navigate through the website.
The team also chose a minimalist approach to the content on the website. They carefully selected their words and placed them sparingly to avoid overwhelming truckers who are often busy. They also used wide fonts to create a sense of space and readability.
The resulting website is user-friendly, informative, and visually appealing. It also features a number of innovative features that help Super-Fast Dispatch to stand out from its competitors.
This fact needs special mention that the team's decision to involve an SEO professional from the beginning of the project was a wise one. This allowed the team to ensure that the website was optimized for search engines from the start, which has helped Super-Fast Dispatch to rank higher in search results and attract more visitors to their website.
The above efforts to improve the website of Super-Fast Dispatch LLC have had a number of positive impacts, including:
Increased brand awareness: The new website is more visually appealing and informative than the previous website, which increased brand awareness and made Super-Fast Dispatch more visible to truckers.
Improved user experience: The new website is also more user-friendly and easier to navigate, which improved the user experience; visitors stayed on the website longer and learnt more about Super-Fast Dispatch's services.
Increased lead generation: The new website includes a number of features that are designed to generate leads, such as the contact form and the slider that lists Super-Fast Dispatch's top USPs. This resulted in an increase in the number of leads that Super-Fast Dispatch generated from their website.
Improved SEO: The new website is optimized for search engines, which helped Super-Fast Dispatch to rank higher in search results and attract more visitors to their website.
Increased sales: As a result of all of the above factors, the new website lead to an increase in sales for Super-Fast Dispatch.
In addition to these specific impacts, the new website also had a number of other positives for Super-Fast Dispatch, such as increased customer satisfaction, improved employee morale, and a stronger competitive advantage.